Date/Time
Date(s) - 01/03/2018 - 01/04/2018
10:00 pm - 1:00 am ET

Join us for 3 hours at 10 PM Eastern. Following a discussion in the first segment we will open up the phone lines and take calls where Barbara will provide mini readings for our listeners. In the 3rd hour we have open mic, feel free to join us for "overtime".
Barbara DeLong is a Spiritual Intuit, and hosts the show Night Light on Revolution Radio/Freedom Slips. http://freedomslips.com/
She created her own oracle card deck called The Cosmic Deck of Initiation, and Authored the book "Whispers of Spiritual Wisdom",  both of which are available on Amazon.
She has had some amazing experiences and provides seekers with excellent readings.
Check out Barbara's website and her show, as well as a documentary called Secrets of the Stones by clicking these links:
www.youtube.com/user/oracletracker
http://www.blogtalkradio.com/night-light (for archives)
Also, please subscribe to Barbara's youtube channel: https://www.youtube.com/user/pobox270
Contact the host of Curious Times: www.curioustimes.ca or https://www.facebook.com/curioustimesradio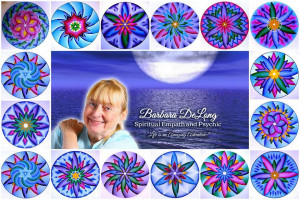 Category(ies)
Recent Listeners

Curious Times – Spiritual Intuit, Barbara DeLong